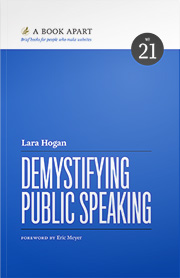 Don't think public speaking is for you? It is—whether you're bracing for a conference talk or a team meeting. Lara Hogan helps you identify your fears and effectively face them, so you can make your way to the stage (big or small).
Get clear, practical advice through every step, from choosing a topic and creating a presentation, to gathering and distilling feedback, to event-day prep. You'll feel confident and equipped to step into the spotlight.
Read the full book here, or buy the book on A Book Apart.
Notes
Some of the links cited in the print version of Demystifying Public Speaking, originally published in 2016, no longer work. For this free web version published in 2021, we've replaced any broken links with Wayback Machine archived versions.
About the author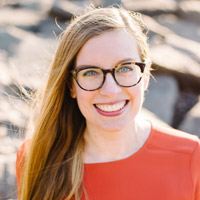 Lara Callender Hogan is an author, public speaker, and coach for managers and leaders across the tech industry.
As a founder of Wherewithall, Lara and her team run workshops, roundtables, and trainings on core management skills like delivering great feedback and setting clear expectations.
Before Wherewithall, Lara spent a decade growing emerging leaders as the VP of Engineering at Kickstarter and an Engineering Director at Etsy. She champions management as a practice, building fast websites, and celebrating your achievements with donuts (and sometimes sushi). Her latest book, Resilient Management, is here to help those who find themselves responsible for supporting a team of people.